Invisalign® Clear Aligners
Invisalign clear custom aligners are a great teeth straightening solution for teens and adults in Delta & Surrey who want to straighten their teeth without having to deal with the obvious appearance of traditional braces.
---
What is Invisalign?
Invisalign is a series of custom-made, clear plastic aligners that straighten your teeth like traditional braces do, only any without metal brackets.
Their clear plastic construction makes the aligners practically invisible when worn, making them an excellent, low profile alternative for individuals with aesthetic concerns.
During your orthodontics consultation, your dentist will explain the comparative benefits of Invisalign vs. braces, and help you choose the most appropriate option for your needs and lifestyle.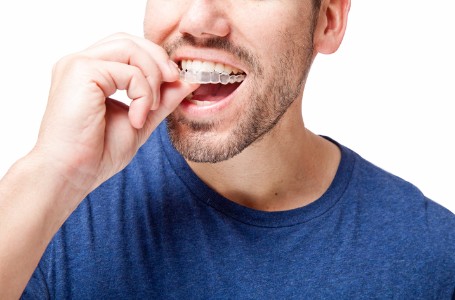 Creating Straight, White, Healthy Smiles. 
Scott 72 Dental is a Straight Smile Centres Member Practice, which means you can count on our general dentists to help you achieve the straight, even smile you've been dreaming of with clear custom aligners from Invisalign.
We're a Straight Smile Centres Member Practice.
What advantages does Invisalign offer?
Invisalign offers three main benefits:
Invisalign is the invisible way to straighten teeth by way of custom-made, nearly undetectable aligners.
Invisalign has been proven effective in straightening teeth, both in clinical research and in dental practices nationwide.
Invisalign aligners are removable, which means you can eat, brush and floss just like you normally would.
---
*The Diamond Invisalign Provider ranking is based on Invisalign use data and is not necessarily indicative of clinical superiority.
Download Invisalign FAQ Sheet
For answers to the questions our dentists are most commonly asked about Invisalign, download our Straight Smile Centres Invisalign FAQs sheet!
How does the Invisalign treatment process work?
At your initial consultation, one of our dentists will evaluate your needs and the extent of your misalignment, and determine whether Invisalign is a good treatment choice for you.
If you are a good candidate for Invisalign, he will develop and prepare a detailed treatment plan and Invisalign cost estimate.
Next, we will take pictures and impressions of your teeth. We'll send these, as well as the treatment plan and instructions from Dr. Chadhal, to Align Technologies headquarters. There, the instructions and images will be used to create a series of precisely customized aligners for your unique teeth, using 3-D computer technology.
During the treatment process, you'll wear each set of aligners for about two weeks, before moving on to the next. Over time, the aligners will move your teeth gradually until they arrive in the desired positions. Most of our Invisalign patients don't need to visit the dentist any more often than they would with braces, and the duration of treatment is roughly the same.
No braces – nothing to hide!
Since they are totally lacking in any metal, brackets or wires, Invisalign aligners are very comfortable to wear. Not only will other people barely notice them, you'll forget you're wearing them sometimes, too! And the removable aligners mean that you won't have to make any changes to your diet, or to your brushing and flossing routine. 
Best of all, because Invisalign is nearly invisible, there's nothing to hide. You can smile and laugh without restraint!
Contact us today to book a complimentary Invisalign consultation!